For Academic Excellence Workshops And Career Counselling
Academic Excellence Devotional – Paperback
In May 2016, I hosted a FREE 3 hour online seminar for teenagers and young adults on Academic Excellence principles, nuggets and thereafter, in June, held the #30Days#AcademicExcellence daily sharing, packed with nuggets, principles and Academic Excellence stories.
This paperback book is full of relevant, impactful, and easy to understand content that I believe will transform your Academics and Life in general while bring you closer to God. Each page is hinged on God's word to let you know that he wants you to be the very best!
What you'll get:
31 Days of relevant and practical content
Academic Excellence stories
Academic Excellence nuggets
Q&A with a Lecturer
Academic Confession
Academic Goals setting worksheet and action points
Study plan
Shop Now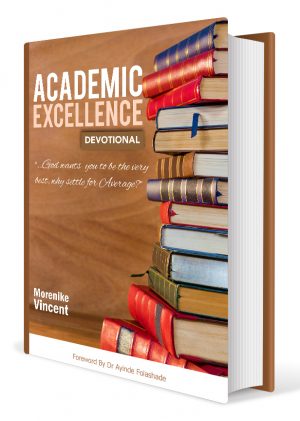 About Academic Excellence Devotional
In 2009, this words came to my heart  "these write-ups form pages of a devotional."
That was where the seed for the Academic devotional was sown in my heart. Fast forward to 2016, I felt strongly that God has given me the grace to write, then my friend Raquel Jacobs chats me up, we talk about our dreams and promise to keep tabs on each other.
Later in April 2016, a thought came to my heart to have an online academic excellence seminar and I obeyed. Raquel and I created fliers and people started sending me messages to join in; to my amazement over 150 teenagers, young adults and educational consultants participated in the almost 3-hour seminar. Before we finished a thought dropped in my heart that I should request people to stay as I would be doing a #30DaysAcademicExcellence in the month of June 2016. I was scared because it would mean posting write-ups daily for 30 days but I beat the fear and told the group. More people joined and the 30 days were amazing. I too learnt a lot and added a bonus day of sharing with weekly tips on academic excellence and had people share their academic excellence stories (thank you Sheba Alogbo and Oluwakemisola Osho, I truly appreciate you).
The 31day sharing on the academic excellence group form the pages of the devotional.