I was on the website of the Oral Roberts University some time ago and their slogan read – Make no Small plans here…
Let me let you in on what stood out for me.
Small plans…this translates to- me, myself and I kinda dream. A dream just enough to make me comfortable.
Usually people say that don't bite off more than you can chew, but I beg to differ bite bigger than you can chew and let God help you chew the rest.
No small plans here friend!
No more tiny visions, just enough for you and your constituency. No more!
Let me share this with you.
Early this year, I read of a story of a woman called Dr Tererai Trent. Her story inspired me greatly (her story inspired Oprah too…smiles)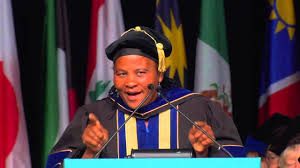 Tererai was born in 1965 in Zimbabwe (then Rhodesia) in a time when the girl child was not allowed to get an education. She desired to be educated and will read her brother's books and do his assignment. His teacher found out and was elated and told her father to let her come to school because she had a voracious appetite for learning. Her father on hearing all the teacher said, instead of accenting to the teacher's request, went ahead to marry Tererai off and at 18 years she had had 3 children already. Yet she believed that someday her dream of getting educated will come to pass. In 1991, a woman from heifer international visited her village and asked all the women there their greatest dream. Tererai did not let her present reality mystify her childhood dream of an education, so she wrote these dreams down:
I want to go to America
I want to have a Bachelor's Degree
I want to have a Master's Degree
I want to have a PhD
I want to come back and build schools here in my home country
These were the dreams of a disadvantaged, uneducated, girl, married off early and with 5 children at the point of writing the dreams. Yet she dared to Dream, and oh did she dream.
Let me fast forward the story
In 1998Tererai moved to Oklahoma with her husband and 5 children
In 2001she earned a Bachelor's Degree in Agricultural Education
In 2003 earned her Master's Degree. Her husband was deported because he always abused her, she later met Dr Trent.
In 2009, Tererai earned a Doctorate degree.
In 2011Oprah got wind of her and featured her on her show as her All-time favorite guest. Oprah donated $1.5 million to Tereai's dream of rebuilding schools in her village in Zimbabwe.
In 2013, Dr. Tererai Trent had the honor to open up the plenary session of the UN Global leaders' Summit in New York.
Her watch word all through, which I have adopted as mine, was Tinogona! Which means "it is Achievable"
So here is me asking you what kind of dreams and plans do you have?
Dare to dream…
Make big plans. It is Achievable!
The lyrics of a song- "Breakaway" by Kelly Clarkson drives the message home
"I'll spread my wings and I'll learn how to fly
I'll do what it takes 'til I touch the sky
And I'll make a wish
Take a chance
Make a change
And breakaway
Out of the darkness and into the sun
But I won't forget all the ones that I love
I'll take a risk
Take a chance
Make a change
And breakaway"
Do not play life safe. Do something today that scares you.
Can you imagine in Matthew 14:28 Peter when he told Jesus, if it is you, bid me come. Peter and Jesus are the only 2 people in history that have ever walked on water.
Can you picture Abraham saying to his family, I am leaving because God wants me on this journey…imagine if he did not dare, we will never have heard of the God of Abraham, Isaac and Jacob.
What of Moses? Born after the similitude of the palace, a general in the Egyptian Army. Yet he believed in a dream that was bigger than himself. Chances are that if he did not follow that dream in his heart, all we would have known of Moses would have just been that he was a general in the Egyptian army.
DREAM friend!
…make NO SMALL PLANS HERE!
The desired future will not just fall on us, we need to get up and be about getting there. It is not magic. Get up!
So spread your wings today and fly! Fly so high!
Live inspired…
Cheers!
-His Handmaiden.